Overview
If you already have a business, you may know that outsourcing is a great resource for you. However, you're debating whether to go with a smaller or larger organisation. It's all about balancing the number of specialists needed to complete a project and the flexibility needed to satisfy ever-changing requirements. A software outsourcing firm might be small, medium-sized, or huge, and each has its own set of advantages. We are here to talk about how we can work together to see which company can add the greatest value to your organisation.
What are the advantages of outsourcing software development?
Development outsourcing is a method of developing software that entails hiring a third-party software development company to accomplish all of the project's technical work. At its most basic level, you hand over the responsibility of the project to a more capable agency with the requisite skills to execute the duties.
The tasks that can be outsourced are –
Softwares for mobile devices

Websites for desktop softwarelications

PWAs

Internal management systems (CRMS, EHRs, ERPs, EMRs)




Software development outsourcing services vary in terms of outsourcing and the options available. When we talk about specific types, there are only three. They are –
Onshore – When you seek a contractor in your own country it's called onshore.
Nearshore – The fundamental idea behind this type is finding a software development company in a country close to your own.
Offshore – This type is distinct from the others because your searches are not confined to your country's borders. Instead, you can hire a contractor from any location on the planet.
Now, let's talk about outsourcing choices.
Hiring freelancers is a low-cost option, but it comes with many dangers. You'll be in charge of recruiting freelancers and developing projects independently. Furthermore, you are unprotected against the possibility that the freelancer will drop off the radar at any time, leaving you with an unfinished assignment.

Hiring a professional agency – While this outsourcing option is more expensive, you receive full service and project development from concept to launch for a higher price. You also won't have to worry about the product because the agency will take care of it. You will obtain a high-quality product, and it will be in safe hands.
Outsourcing software has many advantages
Why do businesses choose to delegate their tasks to various IT firms? The answer to this question is simple because this softwareroach to software development offers several clear advantages, which we shall discuss here.
1) Short-term hiring
If you want to get started on your projects as soon as possible, outsourcing can be a lifesaver. You don't have to devote your time to locating and interviewing all the developers you require. Furthermore, you will not have to compete with other organisations looking for valuable technical personnel, and you will be able to entice them to your company with better terms and benefits.
2) You have access to the whole talent pool
Hiring professionals at home can be extremely challenging due to significant labour market rivalry or scarcity of certain skills. In addition, if you want potential recruits to join your company, you must offer them more attractive terms than other organisations. It becomes more difficult when you add the search process.
By broadening your search to include nearshore and offshore outsourcing, you may substantially simplify your process because you can now select any agency with the needed set of professionals and skills from anywhere in the world.
3) Cost-effectiveness
Another important advantage is the ability to produce softwares at a reasonable cost. Local developers' hourly charges are often several times higher than those in a nearby country or offshore. Outsourcing also allows you to choose a group of specialists who will fulfil your technical and budgetary needs. A mid-level developer in North America, for example, can earn $120-4150 per hour, whereas a specialist at the same level in Eastern Europe can earn $40-$50. Do the math.
Analysis of the market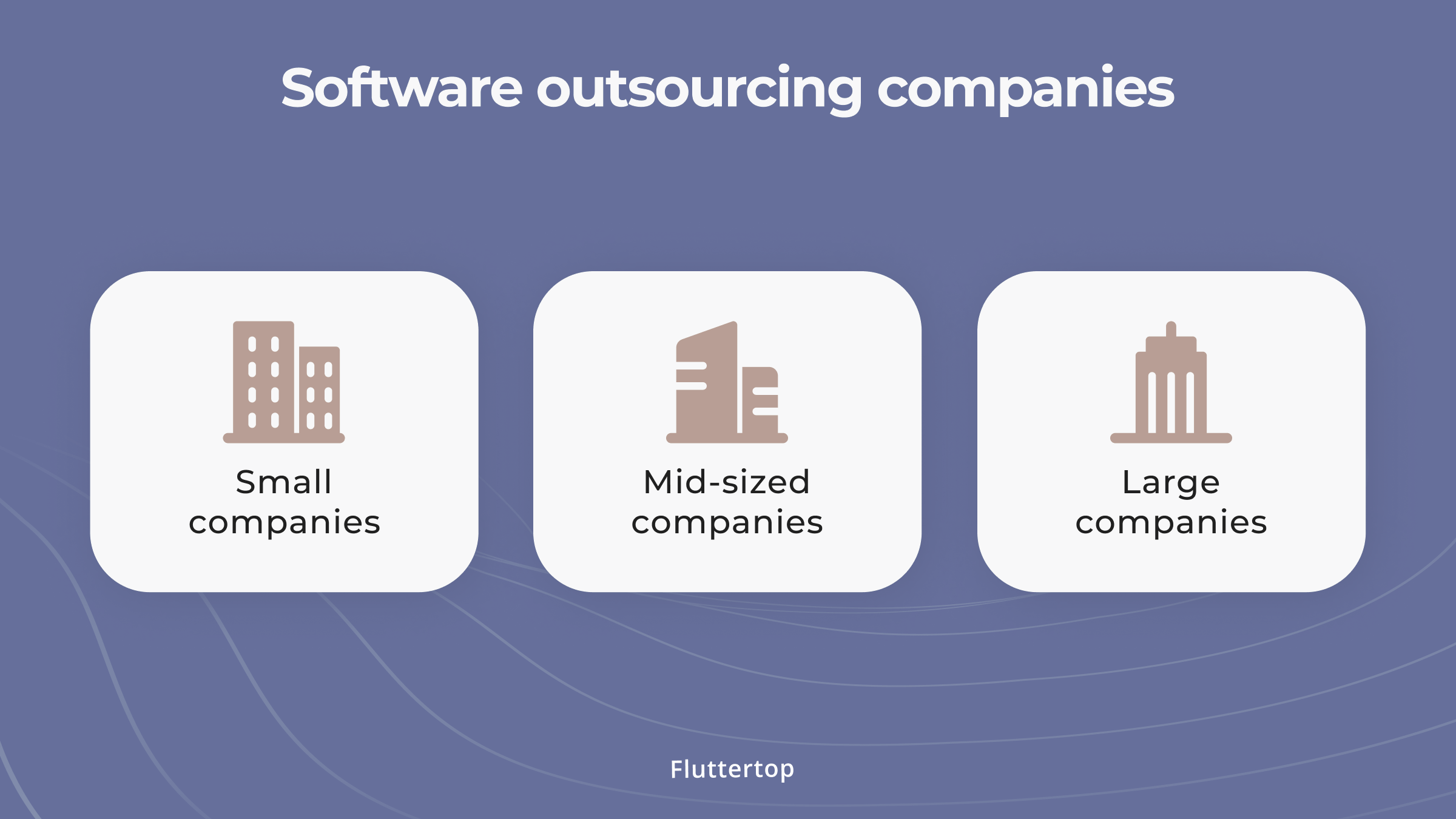 The industry of software development outsourcing services has always been profitable, and this trend continues now. According to the industry, the IT budget spent on outsourcing has increased from 6.3 per cent to 8.7 per cent this year alone. This reflects the growing popularity of this development strategy and the fact that the scale of outsourced development projects is growing. It's also worth noting that the IT outsourcing market's overall revenue is expected to exceed $359 million by the end of 2021. Outsourcing development is becoming more popular among businesses of all sizes and industries, and this trend will continue.
Furthermore, 37 per cent of small enterprises currently outsource at least one of their business activities, demonstrating the method's popularity. According to a recent poll, businesses with more than 50 employees are 66 per cent more likely to outsource their projects to third-party companies. This isn't unexpected, given that outsourcing is a terrific method for small businesses to get their hands on a custom software product that follows all modern canons and is built using cutting-edge technologies.
Outsourcing to small software companies has several advantages
Small outsourcing firms often employ fewer than 250 people. Such businesses normally pay close attention to the client's wishes and adhere to all requirements.
1) Reasonable prices – Companies with less than 250 employees typically provide lower costs to their customers than larger competitors.
2) Flexibility – As previously stated, small businesses pay close attention to every aspect to provide excellent outsourcing software development services. To achieve their clients' flexibility, they often offer several collaboration methods.
3) Well-organized development process – Small software development companies typically have a team of developers who work together regularly and are more familiar. They've already formed a strong team and can work together more effectively.
4) Constant growth – Because specialists desire to meet clients' increasing demands, they seek to expand their knowledge and include new techniques and technology into the development process.
The Benefits of Hiring a Mid-Sized Outsourcing Company
Medium-sized software outsourcing firms typically employ between 250 and 999 people. These suppliers have been on the market for over a decade and have already worked with customers, such as start-ups to large corporations. However, they do not offer the same low costs as small businesses.
1) Brand Reputation – Medium-sized companies have been in business for a long time and have a large client base. They also prioritise their reputation and obtain clients' trust.
2) More qualified specialists – Because they employ more people, mid-sized businesses employ more specialists with a wide range of skills and knowledge. As a result, finding a developer with experience in C# or any other essential technology is easier.
3) Rapid scaling – Because there are so many diverse professionals, you can hire more developers and finish your project sooner. However, forming a large team (10+ engineers) is still tough.
4) Quicker problem-solving – If a problem arises, experienced staff can react swiftly and resolve the issue. The developers may have dealt with the problem before due to their experience. As a result, the downtime is less.
Advantages of working with major outsourcing firms
Large outsourcing firms typically employ over 1000 people with expertise in various industries. However, compared to small and medium businesses, such vendors charge more money and cannot provide the same level of flexibility.
1) Scale the team up and down – Because there are so many specialists with varied skills, adding or replacing experts is simple and quick. As a result, you will be able to accelerate the development process. However, this could result in increased costs.
2) Large-project development experience – Because there are so many professionals, the developers can manage projects of all sizes and complexity. You can hire software engineers as per your need to develop a solution that meets all of the requirements and achieves your company's objectives.
How Can You Successfully Outsource Software Development?
You should follow a few guidelines to get the best results from your outsourcing partnership. We've compiled a list of them below.
1) Specify your requirements and deadlines
The first suggestion for outsourcing IT is self-evident: you must establish precise specifications to achieve the best results. Companies that design software, require specific and extensive information about your requirements and project. The vendor can only provide you with realistic deadlines and prices with this information.
2) Think about your specific experience
Each vendor has several areas in which they excel. As a result, when outsourcing complex software projects, it's best to double-check that the vendor has sufficient experience. For example, suppose you want to make an iOS software for the healthcare industry. As a result, experts like Swift or Objective-C engineers should be on your team. You can also check through the companies to see what they've done in the past.
3) Select an Agile softwareroach
Using an agile strategy allows you to maintain track of your process while developing software. This strategy is ideal for outsourcing since it provides both the project owner and the vendor to work from various locations while still collaborating successfully. The product development process is broken down into sprints. As a result, you and your team will have a thorough understanding of the project's development and its end goals.
4) Talk about project management tools
Numerous software applications can help developers keep track of the jobs they need to do. Tools like Basecamp, Trello, and Jira, for example, allow you to assign tasks, comment on them, and so on. Furthermore, you must discuss communication methods and organise meetings to keep track of all project changes ahead of time.
5) Protect Your Information
A reputable provider will pledge to protect your project concept and any development-related information. You have the option of signing a non-disclosure agreement or NDA. This contract lays forth all confidential information and data that cannot be shared with third parties.
6) Gather all required documentation.
All future software requirements must be meticulously defined for your product development to succeed. A software requirements specification is a gold mine of information that will assist a software outsourcing provider to determine exactly what you want from a project. In addition, the contract for vendor collaboration contains obligations on deadlines, the location of assigned employees, fines in the event of non-compliance with deadlines, and other key aspects that will serve as a form of roadmap for the vendor and prevent them from getting lost.