Overview
In recent years, selecting software development agencies has radically evolved. Companies were given the option to bring more complicated IT solutions to life by selecting specialists from a global talent pool. Due to this, software development outsourcing has become a popular corporate practice.
In this post, we'll go over the benefits and drawbacks of IT outsourcing and the traps to avoid and all you need to know about implementing this collaboration model successfully.
What will IT outsourcing look like in 2022?
IT outsourcing is a commercial strategy for developing software that entails delegating specific responsibilities, jobs, or even the entire development process to specialists from other software development firms (located abroad, as a rule). This strategy is critical for achieving faster outcomes with lower costs while using all the advantages of outsourcing software development to third-party suppliers.
Outsourcing Software Development Services: What Are the Different Types?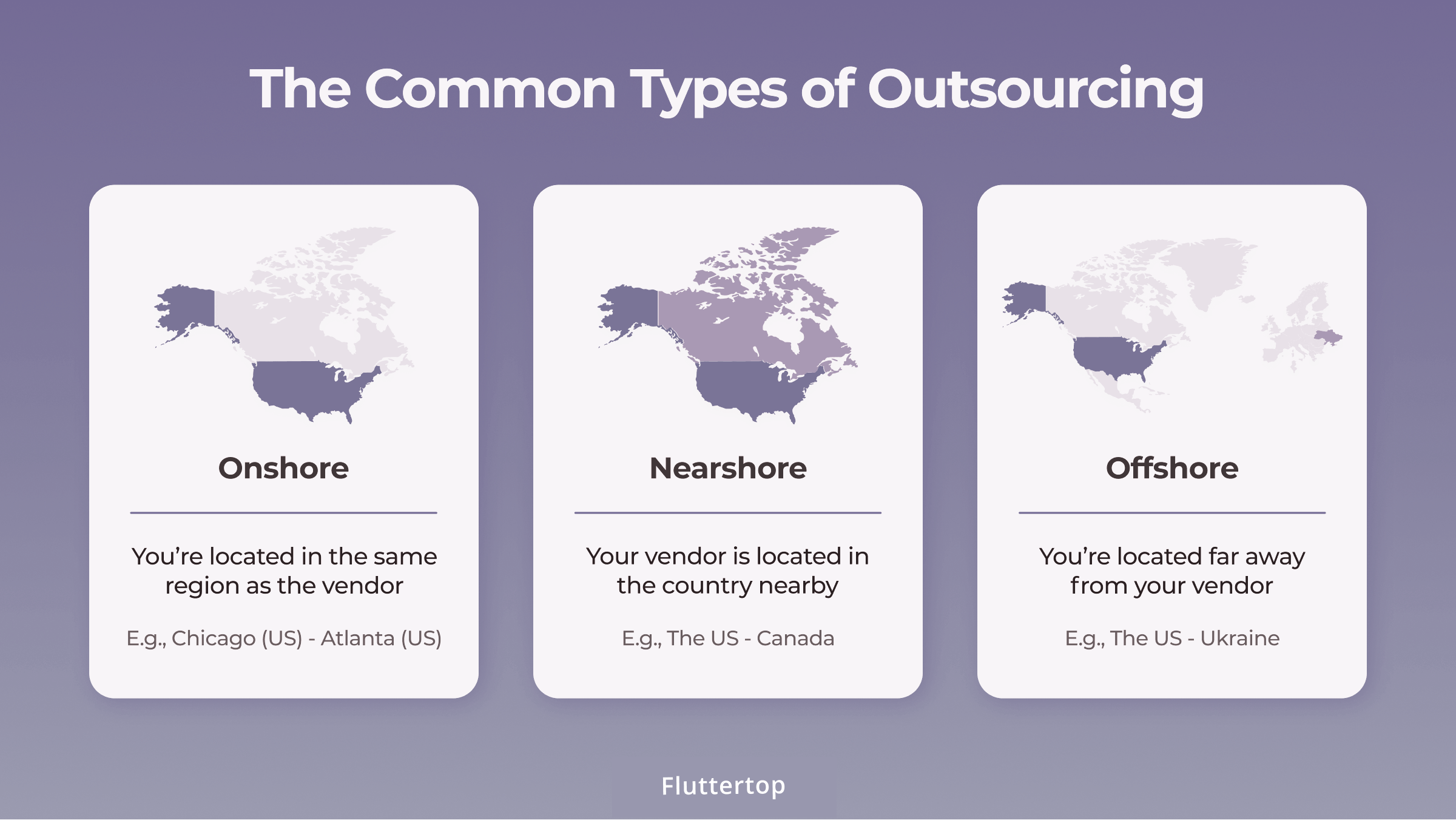 Location-based and relationship-based outsourcing are the two main forms of outsourcing. Their fundamentals will be explained further down.
The distance between the client and the service provider defines location-based outsourcing. Its classification, on the other hand, is as follows.
1) Onshore/domestic outsourcing refers to a customer's application to a partner company located within the same country.
2) Nearshore outsourcing moves software development to nearby countries.
3) Offshore outsourcing entails transferring a development workflow to a remote provider. It is worth noting that such a type has grown in popularity due to its high profitability.
Relationship-based outsourcing is classified into different forms based on management and project execution characteristics. You can use the following outsourcing models to analyse the benefits and drawbacks of outsourcing in your situation:
1) The project-based approach entails the entire team working on the solution creation from start to finish.
2) The team-based strategy requires the outsourcing workers to work on multiple projects simultaneously (for instance, web and mobile apps).
Statistical Survey on IT Outsourcing
According to recent statistics, the decision between IT collaboration models is overwhelmingly in favour of outsourcing.
According to the Statista analysis, outsourcing IT services is extremely popular. According to its data, the global market share of software development outsourcing was $92.5 billion.
According to Clutch statistics, by the beginning of 2021, 8 out of 10 small firms (about 80%) planned to outsource their businesses due to the various benefits of IT outsourcing. Outsourcing software development services is something that 27% of companies aim to do.
By 2040, the NASDAQ stock market, the world's most well-known stock exchange in the United States, predicts that more than 90% of purchases will be made online, boosting the income growth of numerous businesses, including information technology.
Furthermore, according to a Deloitte study from 2019 to 2023, 71 per cent of global clients who use outsourcing and shared services (also known as OSS) believe technological advancements will overshadow the location issue that arises during the software development outsourcing decision-making process.
When Should You Use IT Outsourcing?
Companies rely on the benefits of outsourcing IT services to achieve their goals and remain competitive, especially in today's rapidly changing technological environment.
This collaborative model will work best for you if:
You're the proprietor of a small business or a startup with a limited budget. Furthermore, your organisation lacks a proper recovery plan and money to address data security and safety concerns.
You realised you didn't have enough qualified people to deal with the cropping up problems.
The company's customer service isn't equipped to deal with the problems.
Recruitment and adaptation of new people are far too time-consuming and expensive.
All of these issues can be overcome if you seek professional assistance.
The Advantages of IT Outsourcing and Why It's So Popular

Outsourcing's market size will expand due to its popularity and importance. Techavio's global outsourcing market share is expected to reach $97.51 billion by 2024. According to a Grand View Research analysis, the worldwide business processes outsourcing (BPO) market size was assessed at $232.32 billion in 2020. This figure is expected to rise at an annual compound growth rate (CAGR) of 8.5 per cent through 2028.
The following are the most distinct advantages of outsourcing that have contributed to this growth:
1) Cost-cutting
2) A large pool of skilled specialists
3) A wide range of technologies from which to pick
4) Flexibility and scalability
We'll go over each one in-depth below.
Reduced expenses
You can easily recruit an in-house team for software development, which appears to be a cost-effective and comfortable alternative at first glance. When you include additional costs (such as sick days, office rent, and so on), outsourcing software development becomes a more appealing collaborative option.
According to Deloitte, 70% of businesses outsource app development to save money. Many software outsourcing companies provide low-cost services all over the world. Central Europe, for example, is growing in popularity due to a pool of skilled workers, low taxation, and government support for the IT sector, among other factors. It also demonstrates the optimum combination of modest hourly compensation ($35-100 on average) and consistently high-quality software services.
Due to its well-developed infrastructure and a large pool of expertise, Estonia is one of the leading outsourcing destinations in Central Europe. Furthermore, Estonia's software development business is ranked third due to its export activity. On the other hand, Estonian hourly rates for IT services are among the lowest in Central Europe ($35-50).
Consider the following hourly rates for IT outsourcing services in Europe and other well-known software outsourcing destinations:
| | |
| --- | --- |
| Destination of outsourcing | Average hourly Salary (in dollars per hour) |
| Western Europe | $50-$200 |
| Eastern Europe | $35-$100 |
| Southeast Asia | $21-$61 |
| Latin America | $28-$105 |
| South Asia | $21-$82 |
| North America | $49-$210 |
A Large Pool of Skilled Professionals
One of the major benefits of outsourcing is having access to a large pool of qualified computer experts. 
It enables you to select a professional for even the most complex jobs.
You may be able to hire as many individuals as you need in a matter of days rather than months because the hiring process can be finished in a matter of days rather than months. 
Begin by selecting a single specialist by considering a variety of technical talents from around the world.
Numerous technologies to choose from
IT outsourcing also provide wide access to hiring IT personnel proficient in various technologies, even those that are uncommon.
Most firms require their employees to undergo periodic tech training to stay current with the latest IT technologies. This allows them to keep their razor-sharp ability to give superior customer service.
Scalability of the business
Finding goods and services that can balance a growing company is a problem. Managing an internal IT department becomes more expensive and time-consuming when your company grows. You'll need to hire more people to satisfy your company's growing demands.
Outsourcing allows firms to use several collaboration methods, from specialist teams to staff augmentation, to give the most efficient and cost-effective solutions. As a result, you can quickly scale up or down depending on the current business situation: reduce the number of specialists if there are no assignments to work on, or expand your team if you need to speed up the development process.
Cons, Risks, and Solutions for IT Outsourcing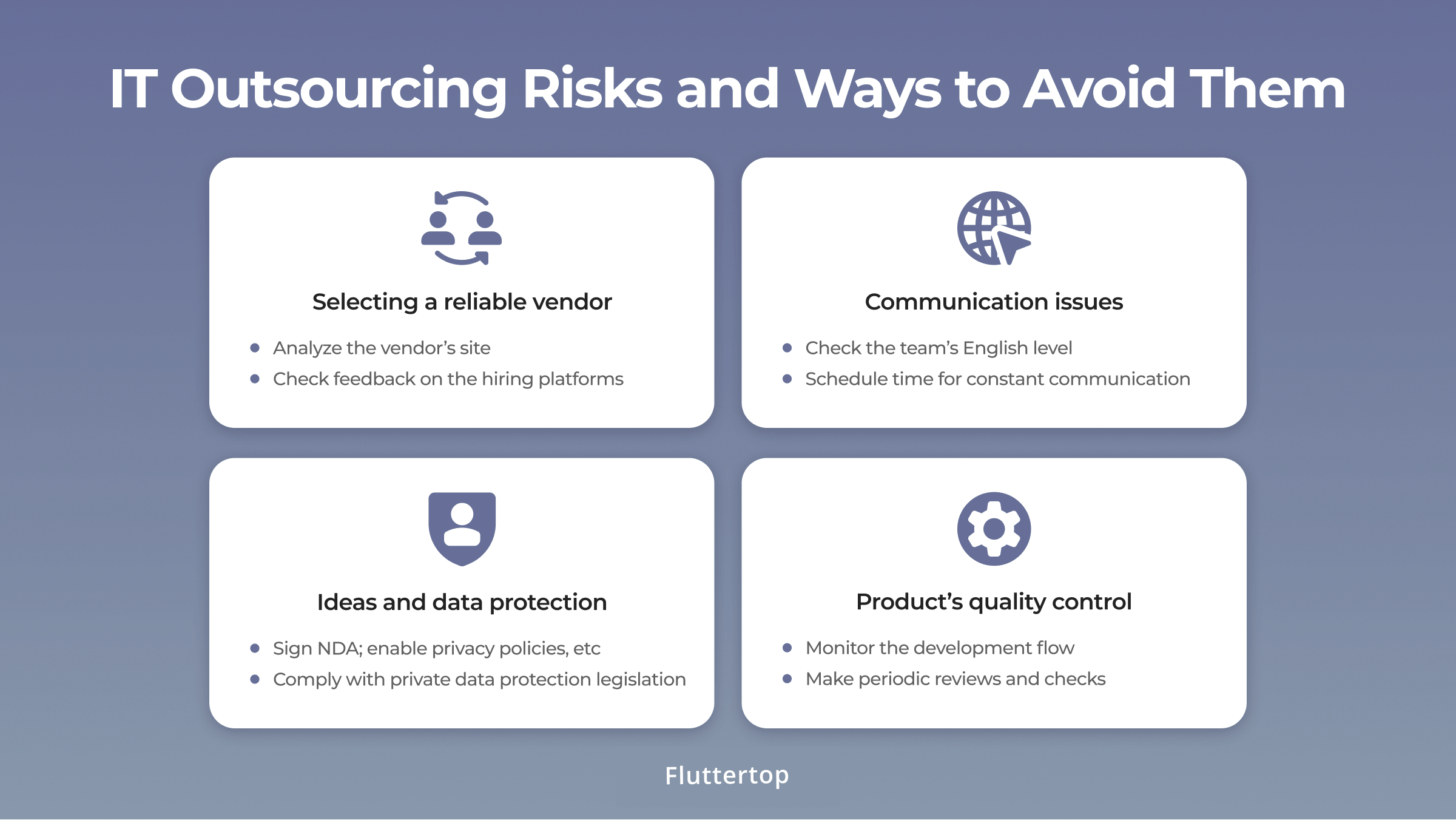 When it comes to using outsourcing to help you reach your full potential, you need to be aware of the potential risks and how to avoid or manage them. The most common negative effects of outsourcing and viable solutions are listed below for your consideration.
Choosing a Reliable Vendor
Finding a service provider who is both trustworthy and meets your expectations can be difficult. On the Internet, many outsourcing software development firms advertise their services and offer to generate software as quickly as feasible. How can you avoid becoming addicted to a one-day firm or an unreliable partner who provides poor service?
This is one of the major drawbacks of outsourcing that can be remedied with comprehensive research.
To begin, look over an outsourcing vendor's website and take note of everything you notice. The company's readiness to cooperate is shown in its excellent SEPR rankings; the intuitive UI/UX and clear navigation may indicate a focus on consumer convenience.
You can also check through the company's portfolio to learn more about their areas of expertise and domains in which they have worked. Consider the number of employees and years of experience: it's advisable to go with a company with at least one year of experience and enough personnel to implement your IT concepts.
You can also use platforms like GoodFirms or Clutch to get acquainted with the vendor's prior customers' feedback and reach your conclusions. Keep an eye on your vendor's social media pages to see how active they are in the IT community. Finally, arrange a face-to-face meeting to get to know one another better.
For example, at Fluttertop, we're always prepared for such conversations, believing that honesty with our customers, staff, and partners is the foundation for good software development. Our diverse range of services and our attention to even the smallest details enable us to achieve even more amazing results while working with our clients.
Issues with Communication
You make it from a distance when you outsource your software development to another organisation, especially if you use offshore development services. As a result, communication between you and the rest of the team may be limited (one of the major disadvantages of outsourcing), leaving you unable to obtain current data at the right moment.
You may avoid this difficulty by scheduling your meeting ahead of time. For example, Fluttertop employees set up a meeting calendar and stick to it to stay in touch with customers and do video meetings at convenient times.
Another common communication issue to address is your potential team's English proficiency, creating communication hurdles. You can ask a corporate representative or double-check it via a video chat or face-to-face meeting if you're not sure. Because all of our specialists at Fluttertop are fluent in English speaking and writing, we can ensure that communication will not be a problem.
Problems with Security
Working with an outsourcing vendor entails providing them with personal and business information. One of the major disadvantages of outsourcing is that a data breach may cost a company money. Let's have a look at how you can protect yourself.
Start by signing a Non-Disclosure Agreement (NDA) to secure your potentially profitable concept while keeping your ownership rights intact. This option is always available at Fluttertop if our customers desire it.
You can also examine whether their created solutions conform with personal data protection legislation (e.g., GDPR, CCPA, etc.) because if they don't, you'll be fined heavily. Finally, please inquire whether they safeguard the entrusted IT ideas using data encryption algorithms, user privacy rules, private information storage, and other measures.
Quality control of the product
It becomes challenging to control the quality of the created product due to the distance between you and the outsourced team. To avoid such an issue, you should monitor the development process of the outsourced team and establish frequent checks of the finished job scope.
How Can You Get the Most Out of IT Outsourcing?
We've looked at the most common outsourcing benefits and drawbacks; nevertheless, the above picture would be incomplete without a grasp of handling all of this data and making the most of it. So, let's take a step from theory to application.
Tips for Increasing Cooperation
Before beginning the outsourcing collaboration, you should consider each stage and its potential consequences:
How can you make the most from the benefits and drawbacks of IT outsourcing?
How can you work effectively with your outsourcing partner?
Examine the market and your company's requirements.
Even though your feelings for the project are overwhelming, try to keep them under control as much as possible. Your first duty is to assess the practicality of your concept by considering it from the perspective of your potential clientele. This way, you'll be able to correctly explain the benefits and drawbacks of outsourcing and make use of them.
What is the best way to conduct such a check? First and foremost, you must understand the operating mechanisms of the market you intend to enter. Then, look at your prospective competitors and industry leaders, consider your target audience and identify their pain issues, which you can incorporate into your product's functionality.
Examining market and business needs is an important aspect of any business plan.
Do a comprehensive search for an outsourcing partner and interview with them.
After you've figured out your company's demands and goals, as well as the current market scenario, you'll need to locate an outsourcer with whom you'll work. This is a problem that requires careful consideration. You can find outsourced service providers on many recruiting platforms by thoroughly evaluating previous customers' feedback and becoming recognised with their company websites or associated resources (such as Glassdoor, ITFirms, etc.).
Then, develop a list of the firms you're most interested in and call them. You should think about what you'll ask them to clarify ahead of time. It could be a set of questions about
1) Information about the company's workflow (e.g., methodologies and instruments, QA techniques)
2) Communication organisation (e.g., the most important means for staying in touch, the English proficiency of the team)
3) Meeting times, managerial quirks, and so on.
After you've figured out your company's demands and goals and the current market scenario, you'll need to locate an outsourcer with whom you'll work. This is a problem that requires careful consideration. You can find outsourced service providers on many recruiting platforms by thoroughly evaluating previous customers' feedback and becoming recognised with their company websites or associated resources (such as Glassdoor, ITFirms, etc.).
Sign a non-disclosure agreement (NDA) to protect your idea.
You've discovered a software development company you can trust, and you've brought them your well-thought-out app concept, ready-made prototypes, or design options. You must now regulate the number of people who have access to your notion and secure it from uninvited shares while monitoring data flows. In this scenario, a Non-Disclosure Agreement (NDA) might be beneficial.
Fluttertop — Your Trusted IT Outsourcing Partner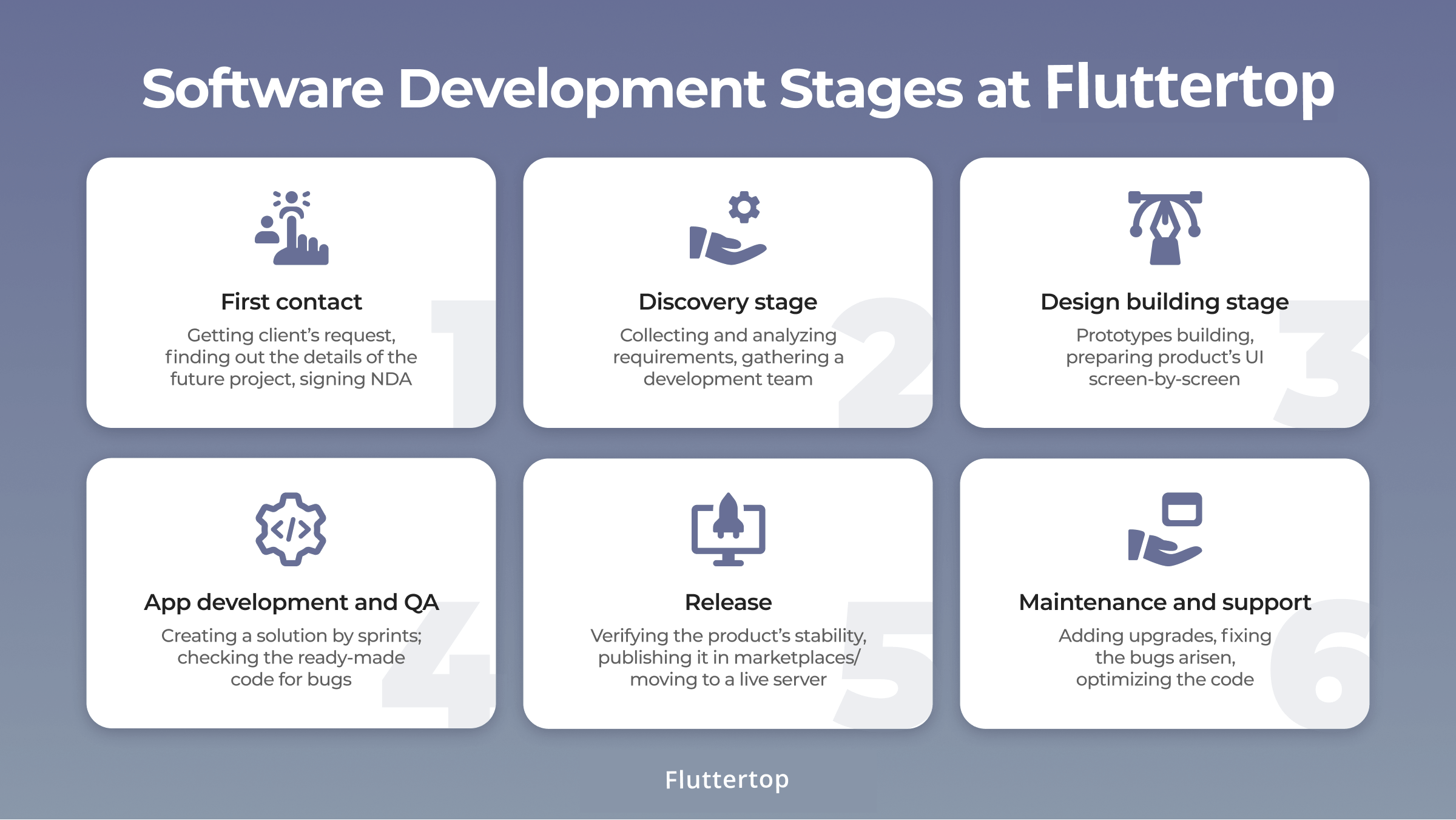 "Fluttertop is a corporation that specializes in IT outsourcing. We've been helping startups and businesses of all sizes acquire cutting-edge technologies and custom software solutions since 2011. They help with workflow efficiency, company challenges, and competitive strategy acquisition.
We are based in Estonia, which is in Central Europe. Estonia is the third most popular outsourcing location for IT workers in the area. According to the most recent estimates, the number of software development specialists will increase to 242,000 by 2025.
Estonian IT workers are well-versed in various software technologies and have a wide range of technical and soft skills. Estonian IT clusters bring together leading IT companies, local governments, and universities to support the growth of the region's IT economy.
We also have qualified outsourcers who design turnkey mobile and online solutions for a variety of industries, including FinTech, Healthcare, Logistics, Retail, Education, Media, and others, and can provide the following services to our clients:
1) Proven experience in outsourcing web development and software development in a variety of industries
2) A thorough awareness of the benefits and drawbacks of outsourcing, as well as how to make use of them
3) Collaborating with a team of highly qualified and accredited professionals on your project
4) Cutting-edge technology and innovative development methods
5) There are three types of cooperative models: time and resources, a dedicated team, and a defined fee.
6) On-demand services: custom software development and upgrades and modernization of outdated systems.
7) A free, no-obligation project estimate from our Sales team, with no hidden costs or fees
8) A no-obligation meeting with one of our Project Managers or Business Analysts.
9) As requested, signing non-disclosure agreements (NDAs).
At every level of the outsourcing process, we develop a workflow and provide guarantees. We're eager to work with you on a long-term basis, so let's start setting new goals and determining the pros and drawbacks of outsourcing IT services with our software development experts."
Conclusion
Software development outsourcing is a major business decision. Before delegating a complex project to an IT partner, assessing all of the benefits and drawbacks of outsourcing collaboration is necessary. However, a careful examination reveals that outsourcing is a trustworthy and cost-effective collaboration option in the short and long run.